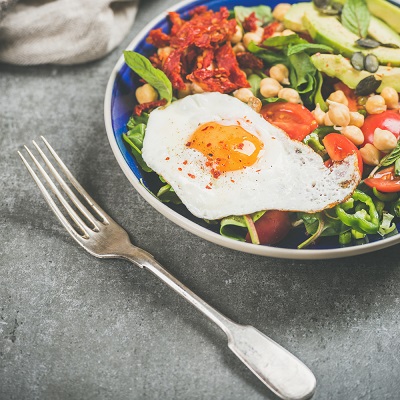 The morning might be busy and hectic, but that doesn't mean it is okay to skip breakfast. You already know that breakfast is the most important meal of the day, and you should make sure you fit in something every morning. The following breakfast ideas are not only approved by a clean eating lifestyle, but they are really easy to put together. Some of them can even be prepared the night before.
Breakfast Toast
If you take a peek around Instagram, you will notice that breakfast toast is very popular for people who are health-conscious, including those following a clean eating lifestyle. It started with avocado toast, which consists of mashed up avocado on whole grain bread, sometimes with a fried egg on top. However, you can make plenty of other healthy breakfast toasts according to what you have, such as almond butter with sliced fruit, salmon and hummus, or veggies with hummus on the toast. You really can add any of your favorite things, or even use large slices of sweet potato for the bread portion of the toast to make it even healthier.
Overnight Oats
Don't rule out something as simple as overnight oats. Oats themselves are usually approved by the clean eating diet, as long as they are prepared in a natural and fresh way. This means you shouldn't use processed instant oatmeal and be careful about what you add to them. However, you can make them ahead of time, usually the night before, so it is convenience when you wake up the following morning with your oats in a mason jar all ready to eat. A basic overnight oats recipe consists of rolled oats, milk, and Greek yogurt. Try adding some organic honey and chia seeds to the oats as well.
Egg-in-a-Basket
This is a breakfast that is fun and easy to make, but is usually done with bread. Typically, it is cooked with a hole in the middle of bread that is placed on the pan and an egg is cracked in the hole. A healthier version is to slice up a bell pepper, put the slices on a pan, and break the eggs inside the peppers. When the egg is done, you enjoy the bell pepper along with the egg. You are saving on carbs and having a healthy meal at the same time.
You can also try old favorites, such as smoothies, as long as you are careful about the dairy portion and whether or not it comes from grass-fed cows.