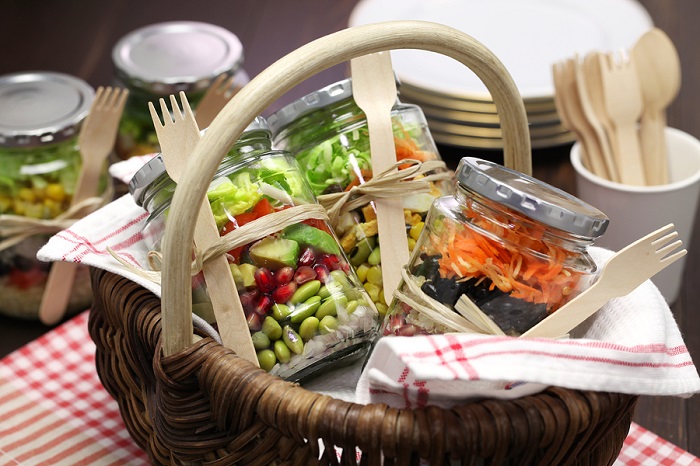 It's so difficult to eat healthy when you are always pressed of time. You hardly have time to comb your hair let alone cook and pack your lunch in the morning. But there is no reason why you should suffer eating the nasty, fat-laden foods they serve at the cafeteria. Sure you can pack healthy lunch for work. It's just a matter of managing your time wisely and picking dishes that are quick and easy to do. Here are some healthy lunch ideas you can try:
Slow Cooker Beef Vegetable Soup
Ask any busy mom and she will tell you that the slow cooker is one of the greatest inventions ever! This is a great recipe that has meat, vegetables and everything nice. Put everything in the slow cooker right before you go to bed and it'll be ready when you wake up in the morning. Easy peasy!
Ingredients
1 pound boneless beef chuck roast cut into cubes
3 medium carrots, 1 medium-sized potato
1 onion, 2 1 ounce cans diced tomatoes
1/2 cup green peas
1 bay leaf
1/2 teaspoon salt
1 teaspoon black pepper
1 cup water
Directions
Slice the carrots, potatoes and onions into bite size pieces. Put all the ingredients in a slow cooker and stir to combine. Cover and cook at low for 8 to 10 hours or at high for 4 to 5 hours.
Chicken Panini
Ingredients
Cooked chicken breast (you can use rotisserie chicken from the supermarket)
Reduced-sodium black forest ham
Reduced-fat Swiss cheese
Wheat or gluten-free rolls
Directions
Assemble the cooked chicken, black forest ham and cheese on top of the roll. Close the sandwich and grill it in the Panini press for 2 to 6 minutes or until golden brown.
You can eat this sandwich with tomato and basil salad.
Whole Wheat Fettuccine Pasta with Shrimp and Peas
Ingredients
Whole wheat fettuccine pasta or any pasta that you like
1/2 tablespoon olive oil
1/3 cup shrimp
1/4 cup chopped tomatoes
1 teaspoon crushed garlic
3 tablespoons frozen peas
1/2 teaspoon of dried herbs (you can use rosemary, thyme or parsley)
Grated parmesan cheese.
Directions
Cook the pasta according to package directions. Pour olive oil into a non stick pan and add the garlic, shrimp, tomatoes and dried herbs. Cook for about 5 minutes while stirring occasionally. Add in the peas and cook for 2 more minutes. Toss the mixture with the cooked pasta and top it with grated parmesan cheese.
Tip: Cook the pasta at night so you can save time in the morning when you prepare your lunch.